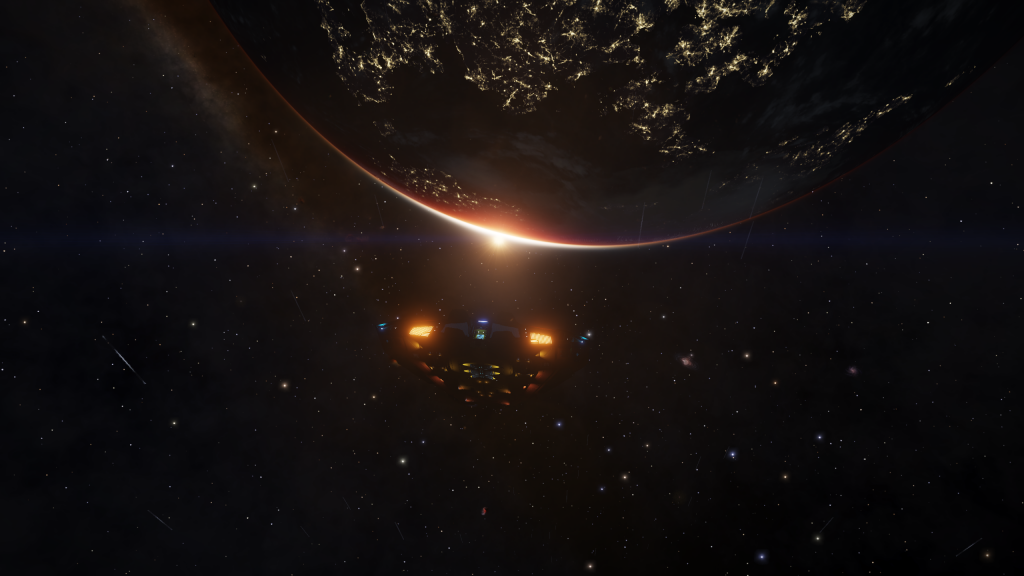 Position
Crew Member
CMDR Name
Head of Health and Safety
Ben Moss-Woodward
CMDR Eid LeWeise
Chief Archivist
Colin Ford
CMDR Phoenix_Dfire
(in)Human Resources Director
Shan
CMDR Shan
This weeks TECH:
Ventura

Download the episode directly from here.
Development News
"Friend" of Frontier Technical Artist allegedly leaks news to a dubious friend, who then spills his guts on 4chan and reddit….
We cover this, but don't go into specifics…
In Game Events
DW 2 – 0.0364% of the galaxy discovered as of 23/04/19
Waypoint 12 Route Map and Itinerary is now available here: https://tinyurl.com/yah9wgkj
The departure from WP11 see's the beginning of DW2 Stage 4 – A journey across the Abyss… and beyond.

There is no specific arrival date for Beagle Point as the fleet is now so spread out, with many latecomers still en-route, several WPs behind. It is expected (as was the case on DW1) that many participants will be arriving at WP12 over a prolonged period of time.

As was the case on DW1, Stage 4 is the longest and loneliest stretch by design, and unlike the earlier part of the journey that encouraged social interaction and meetups along the way, this final part is something we try to encourage commanders to do at their own pace and with no pressure to meet a WP deadline. The expedition officially ends for you, the participant, the moment you reach WP12.

There will be a full route guide home from Beagle Point posted within the next couple of weeks, this is for those who prefer to visit known POIs during their return journey home rather than the free-for-all return trip we used on DW1, but it will not be classed as a continuation of DW2 and there will be no structured schedule or official WP events along the route as the DW2 organisation team will be winding down their roles and responsibility from this weekend onward.

For those who make it all the way to Beagle Point, your successful completion of the journey will eventually be highlighted on the fleet roster, and you will also be eligible for a DW2 decal (this has yet to be officially confirmed by FDev).

In around two weeks time I will post a DW2 'Epilogue' thread, with information on stats & facts, and personal comments and acknowledgements etc, along with the guide home for those that wish to have a more structured journey back to the bubble.
Registering your completion of the DW2 Expedition:

To do this you will need to log in at Beagle Point at least once between April 22nd and June 13th. This is something FDev will use to check that you reached WP12.
(Some exceptions can be made for those who cannot make it by June 13th).

You will also need to post your CMDR name and roster number to the arrivals thread. This is the info we will collate and pass on to FDev to check against your WP12 log in.
You can find your roster number here: https://tinyurl.com/y43glxmf
(Use CTRL+F) to search for your entry.

The arrivals thread will be posted this week and will be announced here.

Please note that the issuing of any rewards that FDev have planned may be something that does not happen right away. On DW1 the decal award for that journey only became available 8 weeks after the end of that expedition, so please be patient.

The organizaton team wishes to thank everyone who attempted DW2, with a special congratulations to those who made it this far!
Main Discussion
Patch Notes April Update

Drag Munitions…

They are experimental munitions that disrupt engine exhaust flow on the target, temporarily preventing ENG power distribution from increasing thrust.
As of the 2019 April Update, Drag Munitions also disables the victim's boost function whilst it is active.

Live Stream

Community Videos and Pics
ED:Battlecards
Quiz
Blind Launching
Community Corner
Shoutouts